Enclosures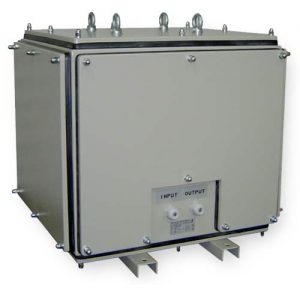 TRAFECO's offer is supplemented by enclosures designed for mounting transformers or inductive components. The enclosures are made of ferromagnetic sheet steel, protected against corrosion with powder varnish. There are several variants of free-standing and wall- mounted enclosures with different dimensions and degrees of protection. Standard enclosures are made in protection grades IP23, IP44 and IP54. The standard colour of enclosures is RAL 7035. By agreement, the transformer can be supplied in a housing with the required degree of protection and colour.
Enclosures made of ferromagnetic steel sheets provide an easy route for the magnetic scattering flux that occurs around transformers and choke. In the case of high-power transformers and chokes with intense flux dissipation, the conduction of the flux through the housing sheets leads to heating of the housing due to the occurrence of hysteresis and eddy current losses in the housing material. This phenomenon occurs intensively only for elements with high scattering flux. In the vast majority of applications, the enclosures do not heat up additionally from the scattering field. In extreme cases where there is a risk of inductive heating of the enclosure (high-power coreless coils, medium-frequency chokes), it is possible to make the enclosure from paramagnetic or aluminium sheet metal which does not conduct magnetic flux.
When using IP44 and IP54 sealed enclosures, the cooling efficiency of a transformer or choke operating inside depends mainly on the proportion of the external surface of the enclosure, the ambient temperature and the losses emitted by the device. Transformers intended for use in sealed enclosures are designed with special regard to limiting the losses dissipated, and the enclosure for them is selected individually.