Single-phase dumping air coils AirECOdTM-17.5 kV
Purpose and design

The linearity of the inductance characteristics of coils is an important parameter that determines the application. In addition to power applications limiting short-circuit current, coils have applications in harmonic filters, reactive power compensation systems and power electronics. The presented group of coreless coils is designed for forced air cooling. Any coil position is possible, allowing forced air movement in the cooling channels. The structural elements of the coils are made of composite materials or paramagnetic steels.
Note:
Upon agreement, we can manufacture a non- standard device with the required technical parameters.
The manufacturer reserves the right to make changes to the parameters due to technical product developments.
Technical Standards EN/IEC 60076-6, EN/IEC 60076-3
Inductance 0.1 – 0.15 – 0.2 mH
Ratedcurrent 50–75–100–150–200A
Initial current 30 x In
Insulation level Um 17,5 / LI 95 / AC 38 kV
Frequency 50– 60 Hz
Protection class IP 00
Insulation class T50B / F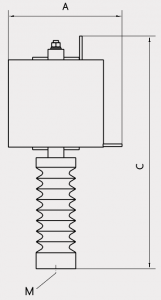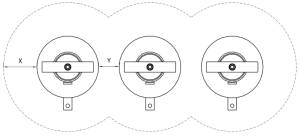 | | | | | | | | | | |
| --- | --- | --- | --- | --- | --- | --- | --- | --- | --- |
| Typ | Un | Ln | In | A | C | M | X | Y | Masa |
| | [kV] | [A] | [mH] | [mm] | [mm] | [mm] | [mm] | [mm] | [kg] |
| AirECOd-17,5/50/0,1 | 17,5 | 50 | 0,1 | 190 | 365 | M16 | 160 | 120 | 4,3 |
| AirECOd-17,5/50/0,15 | 17,5 | 50 | 0,15 | 200 | 365 | M16 | 160 | 120 | 4,9 |
| AirECOd-17,5/50/0,2 | 17,5 | 50 | 0,2 | 210 | 365 | M16 | 160 | 120 | 5,5 |
| AirECOd-17,5/75/0,1 | 17,5 | 75 | 0,1 | 202 | 365 | M16 | 160 | 120 | 5,2 |
| AirECOd-17,5/75/0,15 | 17,5 | 75 | 0,15 | 215 | 365 | M16 | 170 | 120 | 6,2 |
| AirECOd-17,5/75/0,2 | 17,5 | 75 | 0,2 | 227 | 365 | M16 | 175 | 120 | 7,1 |
| AirECOd-17,5/100/0,1 | 17,5 | 100 | 0,1 | 228 | 365 | M16 | 175 | 120 | 7,4 |
| AirECOd-17,5/100/0,15 | 17,5 | 100 | 0,15 | 247 | 365 | M16 | 190 | 120 | 9,1 |
| AirECOd-17,5/100/0,2 | 17,5 | 100 | 0,2 | 260 | 365 | M16 | 190 | 120 | 10,4 |
| AirECOd-17,5/150/0,1 | 17,5 | 150 | 0,1 | 236 | 410 | M16 | 200 | 120 | 11,3 |
| AirECOd-17,5/150/0,15 | 17,5 | 150 | 0,15 | 255 | 410 | M16 | 205 | 125 | 13,7 |
| AirECOd-17,5/150/0,2 | 17,5 | 150 | 0,2 | 271 | 410 | M16 | 220 | 140 | 16,0 |
| AirECOd-17,5/200/0,1 | 17,5 | 200 | 0,1 | 285 | 480 | M16 | 210 | 130 | 23,4 |
| AirECOd-17,5/200/0,15 | 17,5 | 200 | 0,15 | 306 | 480 | M16 | 220 | 140 | 28,0 |
| AirECOd-17,5/200/0,2 | 17,5 | 200 | 0,2 | 327 | 480 | M16 | 230 | 150 | 33,1 |