Three-phase resonant chokes, 3RTR 14% 480V type
Purpose and design

Resonant chokes are intended for use in reactive power compensation systems. They are installed in series with the capacitor bank to form a resonant circuit that protects the capacitors from overload. Such an arrangement limits the amplitude of current harmonics and reduces the risk of resonance. Resonant chokes are selected individually for each compensation stage taking into account the rated voltage of the capacitor, its rated power and the required resonant frequency.
Note:
Upon agreement, we can manufacture a non- standard device with the required technical parameters.
The manufacturer reserves the right to make changes to the parameters due to technical product developments.
| | |
| --- | --- |
| | EN/IEC 60076-6; EN/IEC 61558-2-20 |
| | od 2,5 do 60 kVAr |
| | 400 V |
| | 480 V |
| | 14% (134 Hz) |
| | 50 Hz |
| | IP00 |
| | F (155⁰C) |
| | od -25⁰C do +40⁰C |
| | Ilin = 1.4*In |
| | Cu (miedź) |
| | łącznik termiczny AM03.155 |
| | zaciski śrubowe lub końcówki kablowe |
| | śrubowy przez kątowniki |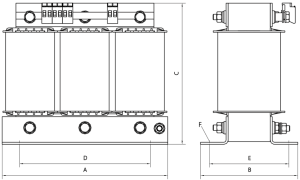 | | | | | | | | | | | | |
| --- | --- | --- | --- | --- | --- | --- | --- | --- | --- | --- | --- |
| Typ | Qc | In | Ln | A | B | C | D | E | F | Masa | Wykonanie |
| | [kVAr] | [A] | [mH] | [mm] | [mm] | [mm] | [mm] | [mm] | [mm] | [kg] | |
| 3RTR-2,5/48014 | 2,5 | 2,9 | 41,07 | 155 | 77 | 130 | 130 | 57 | 8*12 | 3,4 | A |
| 3RTR-5,0/48014 | 5,0 | 5,8 | 20,53 | 155 | 92 | 130 | 130 | 72 | 8*12 | 5,5 | A |
| 3RTR-7,5/48014 | 7,5 | 8,7 | 13,68 | 210 | 98 | 180 | 165 | 78 | 8*12 | 8,7 | A |
| 3RTR-10/48014 | 10 | 11,7 | 10,27 | 210 | 105 | 180 | 165 | 85 | 8*12 | 10,7 | A |
| 3RTR-12,5/48014 | 12,5 | 14,6 | 8,21 | 210 | 115 | 180 | 165 | 95 | 8*12 | 12,5 | A |
| 3RTR-15/48014 | 15 | 17,5 | 6,84 | 240 | 121 | 205 | 190 | 95 | 11*15 | 13,7 | B |
| 3RTR-20/48014 | 20 | 23,3 | 5,13 | 240 | 141 | 205 | 190 | 115 | 11*15 | 19,2 | B |
| 3RTR-25/48014 | 25 | 29,1 | 4,11 | 240 | 155 | 205 | 190 | 129 | 11*15 | 23,2 | B |
| 3RTR-30/48014 | 30 | 35 | 3,42 | 240 | 155 | 205 | 190 | 129 | 11*15 | 24,4 | B |
| 3RTR-40/48014 | 40 | 46,6 | 2,57 | 300 | 165 | 260 | 240 | 133 | 11*15 | 32,7 | B |
| 3RTR-50/48014 | 50 | 58,3 | 2,05 | 300 | 177 | 260 | 240 | 145 | 11*15 | 37,0 | B |
| 3RTR-60/48014 | 60 | 69,9 | 1,71 | 300 | 192 | 260 | 240 | 160 | 11*15 | 43,8 | B |