CTS IP23 standing housing
Purpose and design

Standing enclosures are designed for mounting high power transformers and inductive components. The enclosures are made of ferromagnetic powder painted steel sheets. The housing design ensures optimum cooling of the unit while maintaining IP23 protection. Ventilation holes made in the side walls of the enclosure allow natural air circulation with the surroundings. The power cables are connected via cable glands.
Note:
Upon agreement, we can manufacture a non- standard device with the required technical parameters.
The manufacturer reserves the right to make changes to the parameters due to technical product developments.
Protection class IP23
Housing material ferromagnetic
Coating type / colour powder coating / RAL 7035 as standard
Mounting to the base by means of channel sections
Connection through cable glands or bottom of housing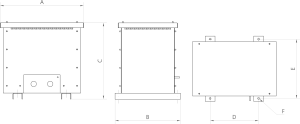 Enclosures for 3-phase devices

Housing type

Power
A
B
C
D
E
F
Mass
[kVA]
[mm]
[mm]
[mm]
[mm]
[mm]
[mm]
[kg]
CTS23-250/50
3,0-5,0
450
380
405
250
340
11 x 15
14
CTS23-300/60
6,30 – 10
530
420
475
300
380
11 x 15
18
CTS23-350/70
12,5 – 16
610
450
545
350
410
11 x 15
23
CTS23-400/80
20 – 30
690
540
630
400
490
13 x 17
38
CTS23-450/90
40 – 63
770
620
710
450
570
13 x 17
50
CTS23-540/100
75 – 115
950
760
870
540
710
13 x 17
73
CTS23-590/110
120 – 160
1030
840
960
590
780
17 x 25
93
CTS23-640/120
180 – 200
1110
880
1040
640
820
17 x 25
104
CTS23-860/170
225 – 250
1435
990
1370
860
930
17 x 25
161
CTS23-940/180
315
1590
1120
1370
940
1050
φ22
186
CTS23-1160/220
400 – 630
1960
1360
1710
1160
1290
φ22
280
CTS23-1210/230
800
2040
1410
1890
1210
1340
φ22
316
CTS23-1340/260
1000 – 1250
2230
1520
2150
1340
1450
φ22
388
CTS23-1370/270
1600
2260
1530
2260
1370
1460
φ22
408
Enclosures for 1-phase devices

Housing type

Power
A
B
C
D
E
F
Mass
[kVA]
[mm]
[mm]
[mm]
[mm]
[mm]
[mm]
[kg]
CTS23-180/60
5,0 – 7,5
410
380
495
180
340
11 x 15
15
CTS23-210/70
8,0 – 12
470
420
565
210
380
11 x 15
19
CTS23-240/80
15 – 25
530
530
635
240
490
11 x 15
26
CTS23-270/90
30 – 40
590
610
730
270
560
13 x 17
42
CTS23-320/100
50 – 80
730
760
890
320
710
13 x 17
64
CTS23-350/110
90 – 100
790
810
970
350
760
13 x 17
74